Why choose Children's Palace
Children's Palace Preschool and Childcare believes that each child has individual needs to be provided for by a qualified and loving team of caregivers. All children are to be treated with love and respect and in return each caregiver will expect the same. Children's Palace offers a loving and nurturing environment for all children to learn and grow through play. We believe that the Wisconsin Department of Children and Family Services has a sound set of Childcare Provider rules and regulations, which we follow at all times, to provide a safe and positive childcare experience.
OUR TEAM

We work hard to find team players who will promote and practice the philosophy of Children's Palace and the Wisconsin Department of Child and Family Service's regulations. The staff at Children's Palace are all registered through the Wisconsin Child Care Registry Program.  We perform and extensive background check on individuals prior to being hired. Our staff members are qualified for the position they hold, and are CPR, first aid, and AED trained through the American Red Cross. We require our staff to participate in a minimum of 25 hours in continued education in the field of Early Childhood.
MEALS AND SNACKS

Our friends at Children's Palace are offered meals approved by the Department of Public Instruction including breakfast, lunch and snack time. We also provide formula for our infants.
A DAY AT CHILDREN'S PALACE

A day at Children's Palace begins after breakfast with the Pledge of Allegiance in all classrooms! Our teachers implement their lesson plans based off of Creative Curriculum for 90 minutes in the morning followed with outside time to work on our gross motor skills. When we come inside we practice good hygiene skills while using the restroom before lunch. All children are required to follow lunch with a minimum of 30 minutes rest time (per the state of WI). Those of our friends who are not resting after 30 minutes are offered a quiet nap time activity until rest time is over. Each day after nap time we have a snack. After Snack time you will hear a lot of giggles when "free play" starts up again. We believe in providing multiple toys, games and activities both in and outside to keep our friends busy and and having fun while waiting for the arrival of their guardians at the end of the day.
Why music and movement?
Music is a language, and children are drawn to learn language. Music evokes movement, and children enjoy and require movement for their development and growth. Music's rhythmic patterns provide exercise for the brain and helps to develop memory.
More Reasons to Choose Children's Palace…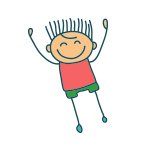 We want to provide the best care for the children and that includes some extra special attention. A great example of this is having our staff move our infant friends into a different position every ten minutes.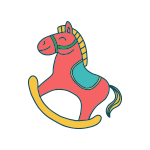 Children's Palace is committed to providing a breastfeeding friendly environment for our enrolled children and our staff members. We established procedures and a policy in support of breastfeeding. You can find this policy on our resources page.
Sensory play facilitates exploration and encourages children to use scientific processes while they create, investigate and explore.
When my wife and I were expecting our child, one of the first things that we were concerned about was finding good quality daycare. It's a nervous time knowing that you're going to put your child in someone else's care. Someone, frankly, you probably have never met. During our search, my wife was told of a place in Holmen that would be great for our baby. My wife visited and when she came back to tell me, she looked at me and said, "I think we found our daycare." That was just over 3 years ago. We are still there to this day with 2 children in their care. Why? Easy to answer. The staff put our mind at ease. Many staff members are parents in their own right, so they treat your child as they would their own. From breakfast time, to play time, to nap time, and any other time of the day, our children are watched over with care while being taught skills that will hopefully move them forward when they go to school. Kim and the staff keep us updated on things that went well, and on those occasions, when the kids may have not had their best days either. It's a blessing knowing that when we drop off our children, they are in good hands of people that care about your child and you! That's what families strive for every day, care and compassion for your child. If you're looking for child care for your family, it's a place we'd recommend to try.
Children's Palace is like a second family to our kids. Carter (6 yrs) and Chloe (4 yrs) have been attending Children's Palace since they were 6 weeks old. As a parent it is always hard to leave your children but the staff has been great. Carter and Chloe love going to daycare, they have learned so much. They love the friends that they have made and especially the teachers that have become part of their family. Ms. Kim and the Holmen staff have been a major part of our lives and helped with the major milestones in our children's development. We never have to worry when we take our kids to daycare because we know that they are in a caring and loving environment with the staff. We cannot thank them enough for helping to mold our babies into the happy kids they are today.
My son has loved children's palace from day one! 11 weeks old, and now he is 3 years old! They have loved him like their own and taught him so much!! Thank you all!!
Logan 3 1/2 and Gavin 1 1/2 started with children's palace 2 years ago, Logan was going to a great in home day care but because my husband switched jobs we no longer could needed to run to Onalaska and with a baby in the way we wanted something closer to home, so we switched to the West Salem children's palace. All I can say is we are so happy with Ms. Jenny, Ms. Bobbie, Ms. Marie, Ms. Tonya and all the other wonderful teachers at the West Salem branch! Both boys have thrived and I know will continue to thrive until they go to school. Thank you Children's Palace for loving our little boys just as much as we do!
My experience with Children's Palace Preschool and Child Care has been fantastic! I started bringing my children when they were 5 mos. and almost 3 yrs. old. We had previously had a family member providing our daycare, and worried that we'd lose that close loving relationship that you get from family, but we were wrong. Our kids are treated like family at Children's Palace, but that's just the beginning of why we love it. Within a very short period of time we noticed our oldest, Hank, learning all kinds of things that we would never have thought he was capable of. He learned the alphabet shortly after starting at Children's Palace and soon could spell his own name. And our youngest, Olivia, was learning too! One day I was shocked to find her using sign language to say "more please". Ms. Kim and her team are always finding new and fun ways to entertain and teach our kids and we are grateful for them all. We've been with them for almost 2 years and we are staying.
As a new mom I was really reluctant about leaving my new born baby in someone else's hands. The workers were very patient with me they let me come in to the day care and observe what goes on with the children. What really helped me was that the Children's Palace filled out a dally sheet of what he did for the day. They do projects for the different times of the year. Since this day care center is a learning center they work with the Colors, Shapes, ABC's, 123's and learning how to go on the potty, all every important things in life of a two year old. The Children's Palace also has a very structures schedule. The Kids really thrive on this schedule. They also go on field trips when the children get a little older. I really looking forward to having my child come home and telling me how much fun he had at daycare. He is currently too young to let me know but I can just tell when we go to day care he just runs in the class room with a big smile on his face.
We have been with Children's Palace Preschool & Childcare for over a year and are very happy to have our Granddaughter going there. She has made a lot of friends and talks about them constantly. I work very early in the morning and have to leave by 5:30a.m. most mornings; I can count on them to be there. The hours are great, planned and lots of learning, crafts and play time, and field trips scheduled. I am happy that she gets outside each day weather permitting. The staff at your day care are all very friendly and caring, and I feel good leaving her there and knowing she will be well taken care of. I would recommend Children's Palace to anyone looking for childcare; we have been very satisfied with the care our granddaughter receives there. Thank you for all you do.
My son Carter, who is four years-old, has been attending Children's Palace since he was 3 months-old. I also have a 9 month-old, Jase that started attending the Children's Palace at the age of 3-months. As parents, we all wish that we would not need the services of a day care for our children but the reality is that some of us do and subsequently we are faced with the ever so important decision of finding a facility that will provide the love and care that they deserve, and gives us parents the peace of mind knowing that while we are away from them that they are being loved, that they are safe and secure and are learning to interact with other children of the same age group which is so important. Children's Palace has more than met my expectations in these areas and I feel very fortunate to have had Carter at Children's Palace for the past four years and now my other son Jase. Carter loves the friends he has made and the teachers that he has had and I am thankful that Jase will get the same experience as his older brother. I cannot thank the Children's Palace staff enough for the love and care they have provided for both of my boys.